Announcing the NEW DuchenneXchange
Built by the community, for the community, the DuchenneXchange has offered a secure place to inform, inspire and empower those living with Duchenne since its inception in 2018. By offering a collaborative, trusted platform of resources and support for everyone affected by Duchenne, the DuchenneXchange has grown its membership to thousands of members, with a reach past borders in North America to across the globe.
"DuchenneXchange is a warm, welcoming and understanding place for me to turn to with questions and for support. Every time I ask a question on DuchenneXchange, I get multiple thoughtful and caring answers."

-Andy B., Father
Over the past year, the DuchenneXchange team has been hard at work planning how to make the DuchenneXchange even better, and how to best facilitate growing an even more collaborative community. We're happy to say that the new and improved DuchenneXchange is ready for you to enjoy!
We've listened to feedback from members of the DuchenneXchange and from the greater Duchenne community. What we've heard is that other social platforms are not well tuned for preserving the privacy people need to say what they truly feel. Building a collaborative place where people can indeed share their deepest thoughts and most honest opinions must start with trust – both in the platform and its members.
Here we can truly be ourselves. We can rate, review and report provider experiences honestly, express the emotions that scare us and convey our silly concerns clearly, all without the injection of irrelevant content and distracting ads. Most of all, in an age where everything you do online is shared and exploited for someone else's profit, we won't sell your personal information to 3rd parties.
A New Look & Feel
The first thing veteran users of the platform will notice is a branding change. We chose green for the DuchenneXchange to match the color of dystrophin as it appears on a medical slide. Green represents dystrophin, and the greener the better. But we also feel this color is symbolic of growth and of a warm, safe community.
Better Social Engagement
To further promote a greater sense of community, we've brainstormed better ways to encourage engagement and provide the best, most up to date information as it relates to the Duchenne community. As a new visitor, you'll hopefully appreciate the welcoming environment and engagement tools we've improved. New members should find it easier to seek out experts on topics and those who may have more veteran status among their peers will discover more opportunities to share their knowledge. Existing users of the DuchenneXchange will also notice a slew of new features and improvements:
Members can connect with each in a secure and trusted environment, without the fear of bullying, irrelevant ads or other privacy concerns.
Groups now feature more opportunities for social networking within the site and engagement with each other, plus new maps and profile search tools enable the Duchenne community to engage with nearby members who share similar interests.
Now anyone can write a blog, be noted as the author and share their thoughts throughout the Duchenne community, offering a wider range of supportive perspectives and experiences.
Updated survey and poll capabilities empowers members to share insights and take a more active role to inform pharma companies and other research organizations of their perspectives.
Real time news keeps users informed in on Duchenne relevant information, clinical trials and study progress.
A clinical trial finder that's searchable and updated daily helps the community stay abreast of next-generation therapies in development and find available clinical trials to participate in.
The resource directories feature both clinics and clinicians so the community can easily find nearby providers and convenient locations.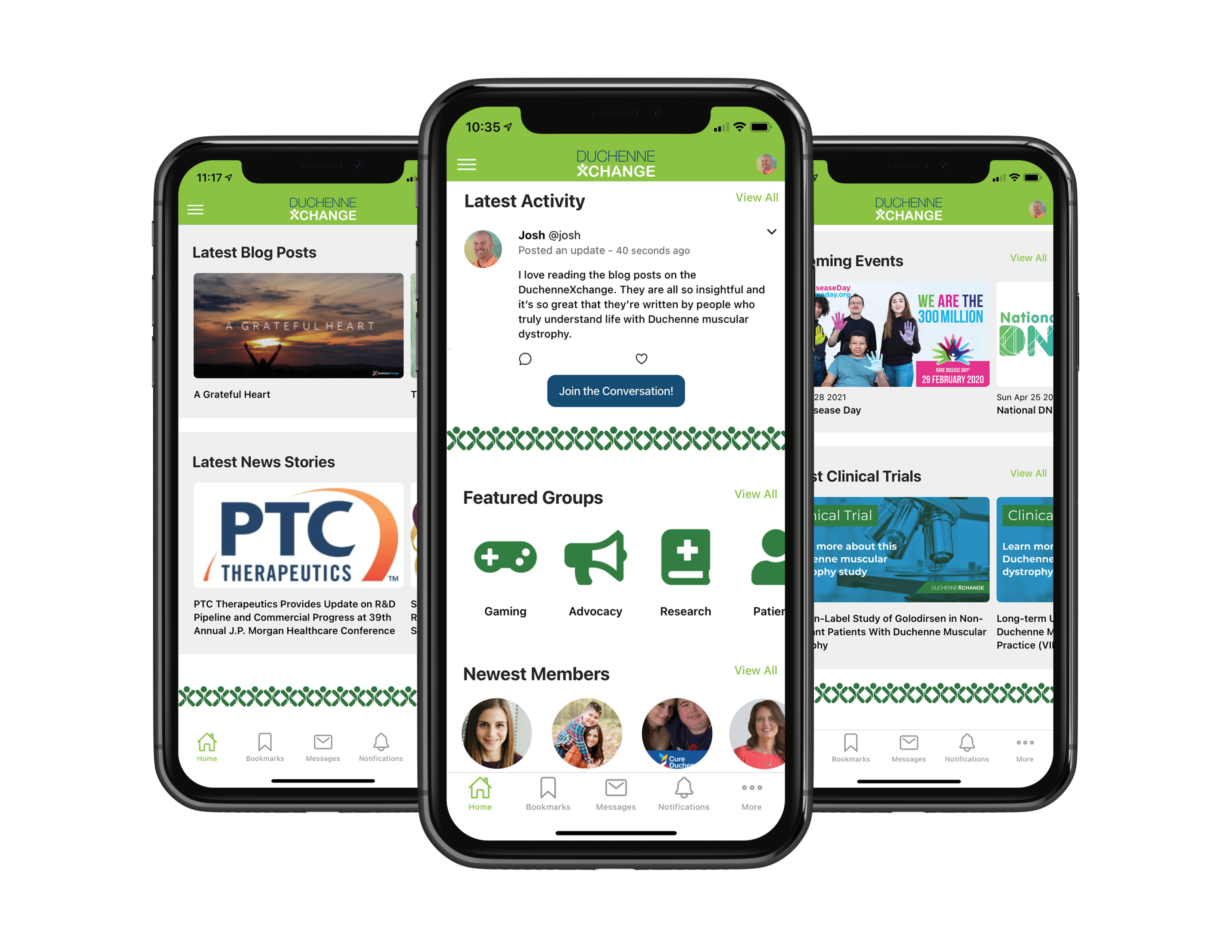 On the go with DuchenneXchange
The most significant aspect of the new DuchenneXchange is how it's built. Now members can more easily access and engage with a wider range of people, content, events, and updates from across the rare disease community. While the desktop experience is still available, we've made it even easier to access on the go.

Connect on the DuchenneXchange from any device, at any time using our new mobile app.